Data protection officer for small businesses
nationwide | secure | individual consulting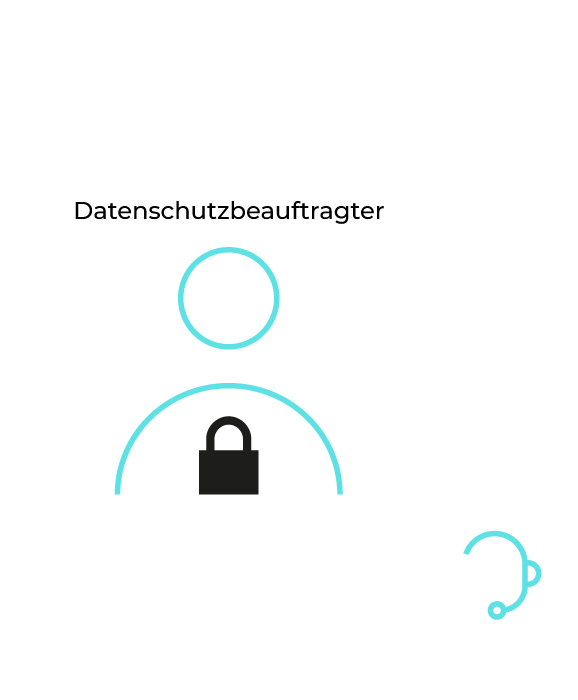 External Data Protection Officer
External DPO (S) - GDPR for small businesses
Are you looking for a (new) data protection officer? Custom fit, support and consulting included? We take care of your concerns - quickly and straightforward.
Flat-rate package S for start-ups and small companies: Takeover of an existing DPO mandate or initial appointment by Cortina Consult - one price, everything included.
Audit | Implementation | Prevention
3 steps to a data protection-compliant organization
Have you selected the right package for your company? Then you can get started right away: Your new DPO introduces himself and discusses the further procedure with you. The foundation for the project that follows have been laid.
DPO
Appointment and registration of the ext. data protection officer
Audit
Assessment as the basis for cooperation
Service-Desk
Communication via teams, ticket system, phone & email
DSMS
as the basis of compliance with the GDPR
Step-by-step implementation of the tasks at hand. After the initial assessment, we start the joint project - from the legally compliant website to the order-processing-contracts and TOM (technical-organizational measures).
Information requirements
Implementation of the requirements of Art. 13 /14 DSGVO
Website
Privacy Policy and Cookie Consent Tool
Employee data protection
Onboarding of new employees and staff
Employee training
Data protection training for your staff
OPC
Review and creation of order processing contracts
Deletion concept
Introduction into the creation of a deletion concept
Data protection incident
Support guide for data protection incidents
DPA
Compiling the register of processing activities
TOM
Concepts for technical-organizational measures
DPIA
Data protection impact assessment (if required)
Affected party requests
Guideline for dealing with inquiries from affected parties
Questions?
Write a message!
Projectmanagement
Updating the data protection management system
Service Desk
Communication and support via ticket system, TEAMS, telephone and e-mail
Some aspects require recurring attention. For example, if new employees join the company, they must also be trained. New service providers need an data processing agreement. The website evolves, adjustments to cookie banners and privacy policy may be required. The following services are therefore part of ongoing operations:
Updating the data protection manual
Updating of all documents created in the project
Compliance Report
Website check incl. update service of the Cloud DSE
DSGVO News
Providing a newsletter (data protection information)
Communication
Easy communication and accessibility for follow-up questions
Employee Training
Data protection training for your staff
Service Desk
Even after project completion: communication and support via ticket system, TEAMS, telephone and e-mail
Privacy Seal
Cortina seal for your website + individual status URL for your company
Privacy Hub
Individual access to own company profile (Space)
Looking for external data protection consulting?
Pragmatic implementation of the GDPR requirements. Would you like to learn more about the Remote DPO's from Cortina Consult?
Frequently Asked Questions about the DPO Packages
The Cortina Consult team has been consulting large and small companies on data protection matters for over 10 years. In the meantime, we have grown into a team of data protection experts, lawyers, IT security experts and specialists for web compliance (privacy policy, cookie banners, information requirements) as well as programmers and UX designers. This extraordinary combination enables exceptional service from a single source, from which our customers from all industries benefit. Our claim is not only to offer the best quality service, but also to work budget-oriented and efficiently. For this reason, we offer more and more of our services online/remote.
In remote consulting, communication between consultant and client takes place via e-mail / telephone / video conference / data exchange server and other digital media. The physical presence of the consultant is therefore no longer necessary, which brings many advantages for both sides. After all, remote is not a trend that has only come about through Covid. For years, more and more services, especially in the area of consulting, have been offered online. We have all the necessary means to make the consulting and the process of implementation personal and effective. 
Reduced consultant fee
No travel costs
Low infrastructure requirements
Flexible scheduling
Efficient and simple communication 
Time savings thanks to efficiency and flexibility 
Preservation of the personal level through video communication
Protection against contagion (Covid) 
Stable internet connection
Installation of collaboration softwares like Zoom or similar
Access to data exchange folders 
DPO Small: 
The Small package is for companies with a small budget or few data protection needs, such as retail, hospitality, and craft businesses. An initial assessment provides an overview of the current situation. The subscription price already covers the most important aspects of data protection, such as the assignment of the data protection officer, the data protection manual, the privacy policy and employee training. Templates and completion aids/instructions for contracts and more help with the implementation of other GDPR regulations. Following the principle of Do-It-Yourself and save money, the customer's own commitment is required during implementation.
DSB Medium:
The Medium package is for medium-sized companies with manageable data protection needs, such as advertising agencies, lawyers, consultants or online stores. A detailed assessment at the beginning creates the basis for further steps. The subscription price already covers the most important aspects of data protection, such as the assignment of the data protection officer, the data protection manual, the privacy policy and employee training. We support the implementation of further regulations with the help of templates and instructions.
DPO Scale:
The Scale package is for companies that need comprehensive data protection and do not want to do it themselves such as financial companies, HR service providers, software companies, corporations, international companies or data processing companies. You leave all the work to our data protection experts and enjoy full protection. The scope of the packages will be individually tailored to you after an initial needs analysis. Of course, all basic content such as the data protection handbook, a compliant website (privacy policy and cookie banner, information obligations) and employee training are included. Our legal, IT & web experts will advise you on all other data protection issues. If the issues are too complex, this can also be done on site.
For small & medium enterprises, B2B
Perfect for e-commerce, logistics, IT & B2C
Perfect for companies with more complex requirements & B2C
Do you still have questions about the topic or about data protection in general?
We are happy to help you:
Your data protection officer
Jörg ter Beek
Data protection expert
Mitarbeiterschulung
Sensibilisierung neuer MitarbeiterInnen
Service Desk
Auch nach Projektabschluss: Kommunikation und Support via Ticketsystem, TEAMS, Telefon und E-Mail
Datenschutzsiegel
Cortina DSB-Siegel für deine Website + individuelle Status-URL für dein Unternehmen
Privacy Hub
Individueller Zugang zum eigenen Unternehmensprofil (Space)